Now is possible to make a live – real time concert of Hatsune Miku and friends! Yamaha has develop a new keyboard that allows to play the japanese characters with one hand and the keys with the other hand.
¡Ahora es posible hacer un concierto realmente en vivo de Hatsune Miku y sus amigos! Yamaha ha desarrollado un nuevo teclado que permite tocar las sílabas japonesas con una mano y las notas con la otra mano.
Vocaloid (ボーカロイド) is a singing synthesizer. Its signal processing part was developed through a joint research project led by Kenmochi Hideki at the Pompeu Fabra University in Spain in 2000 and originally was not intended to be a full commercial project. Backed by the Yamaha Corporation it developed the software into the commercial product "Vocaloid".
Vocaloid (ボーカロイド) es un sintetizador de voz. Su parte de proceso de señal fue desarrollado por un equipo liderado por Kenmochi Hideki en la Universidad Pompeu Fabra en España en el 2000, y originalmente no estaba destinado a uso comercial. Con el apoyo de Yamaha Corporation, se desarrollo el software para convertirse en el producto comercial "Vocaloid".
Until now, the only way to create a song in Vocaloid was by using the UI of the software – a piano roll kind UI – Impossible to use as live performance.
Hasta ahora, el único modo de crear una canción en Vocaloid era usando la interfase del programa – un poco a estilo de piano roll o secuenciador – imposible pensar en usarlo en vivo.
Yamaha has not plans to release this product commercially, but as the chip is removable, they could provide it to other companies if they are interested.
Yamaha no tiene planes de sacar comercialmente este productos, pero como el chip se puede quitar, están abiertos a ofrecerlo a otras compañías si es que están interesados.
So… maybe we will see really soon some real live concerts of Miku!
¡Así es que quizás muy pronto veremos verdaderos conciertos en vivo de Miku!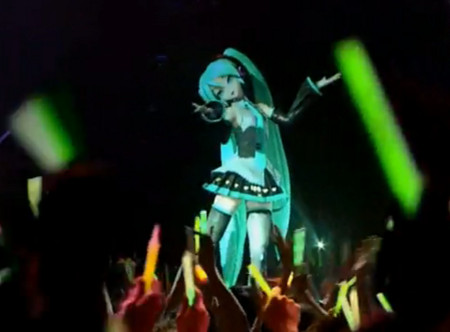 The Yamaha Vocaloid Keyboard in action! video by Diginfo
¡El Teclado Vocaloid de Yamaha en acción! videoo de Diginfo
If you want to see more about Japan, make any questions, leave your comments, share pictures and videos, or just say hello, feel free to join us at our Facebook or our Made in Japan Online Store
Si quieren saber más sobre Japón, hacer preguntas, dejar comentarios, compartir fotos y videos, o sólo decir hola, no duden en seguirnos en nuestro Facebook o en nuestra Tienda en línea de productos hechos en Japón.