Summer is here and with this hot weather you feel the call for a kakigōri (かき氷) a drink made with ice and syrup with flavors such as lemon, grape, strawberry and melon. This drink is very popular on summer festivals, though you can also find them on vending machines and convinient stores. Not expensive and very refreshing on hot summer days.
El verano está aquí y con el calor se apetece un kakigōri (かき氷) que es una bebida a base de hielo raspado y jarabe de sabor como limón, uva, fresa y melón. Estas bebidas son muy populares en los festivales de verano, aunque también los pueden encontrar en tiendas de conveniencia o máquinas expendidoras. Una bebida en absoluto cara y muy refrescante en los calurosos días de verano.
Here is a short video on how kakigori is made.
Este es un pequeño video de cómo se hace el kakigori.
Calpis (カルピス) is uncarbonated soft drink, which has a light, somewhat milky, and slightly acidic flavor, similar to plain yogurt or Yakult, very popular in Japan and in the summer. Its ingredients include water, nonfat dry milk and lactic acid, and is produced by lactic acid fermentation. There are lots of flavours but the original one is known as Calpis Water ( (カルピスウォータ) and its carbonated version  Calpis Soda (カルピスソーダ) Very accesible drink  you can find it on most of the vending machines and on supermarkets and convinient stores.
Calpis (カルピス) es una bebida carbonatada sin alcohol, con un ligero sabor a leche y un sabor un poco ácido, similar al yogurt natural o al Yakult y es muy popular en Japón y sobre todo en el verano. Sus ingredientes incluyen agua y leche descremada y se produce con la fermentación de ácido láctico. Hay variedad de sabores pero el original es conocido como Calpis Water ( (カルピスウォータ) y su version carbonatada  Calpis Soda (カルピスソーダ)  Una bebida que puedes encontrar en la mayoría de las máquinas expendidoras, en los supermercados y en las tiendas de conveniencia (konbini)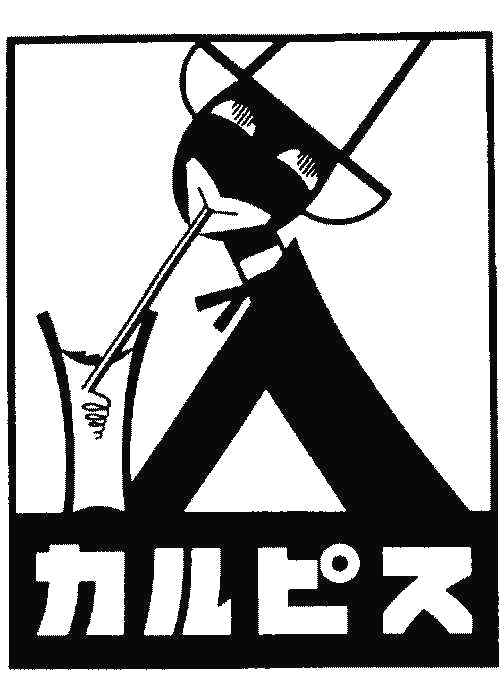 Original Calpis Logo
Actual Calpis Logo
Here is a short video of Calpis.
Este es un pequeño video de Calpis.
If you want to see more about Japan, make any questions, leave your comments, share pictures and videos, or just say hello, feel free to join us at our Facebook or our WebTV Channel.
Si quieren saber más sobre Japón, hacer preguntas, dejar comentarios, compartir fotos y videos, o sólo decir hola, no duden en seguirnos en nuestro Facebook o en nuestro canal WebTV.